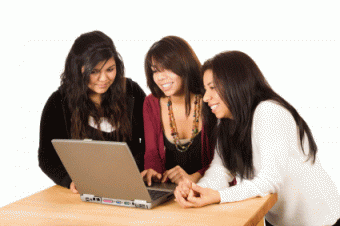 While it isn't the site's intended purpose, adolescent dating and Facebook are becoming more and more intertwined. Facebook profiles, much like dating profiles, include users' relationship status, personal information and photographs.
Facebook's History
Facebook started in 2004 as a social network site for Harvard students. It quickly gained favor and expanded to colleges nationwide. For the first two years, Facebook was only available to users with a college email address from a participating school. In 2006, the site opened to all users when its founder, Mark Zuckerberg, dropped out of Harvard to run it fulltime.
Today, Facebook is the second largest social network site online, second only to Myspace. The site boasts over 60 million users worldwide. High school and college students are the site's largest group of users.
How it Works
Sample Facebook Profile

| | |
| --- | --- |
| Networks | New York, NY |
| Sex | Male |
| Relationship Status | Single |
| Birthday | June 12, 1980 |
| Hometown | New York, NY |
| Political Views | Liberal |
| Religious Views | Episcopal |
When users open a Facebook account, they create a personal profile. This includes a name, age, gender, hometown, relationship status, religious preference and political views. Users can then join networks and search for friends already using Facebook. Networks correspond to the city you live in, your high school or college or your workplace. The site also allows users to join common interest groups.
Once the user chooses networks and groups to join, Facebook responds with a list of current users that belong to the network or group. The new user can add friends to his profile from these lists. Users can also search for people they know by name.
Other Features on Facebook
Facebook allows users to message back and forth from the site, make blog entries on "the wall," and upload photos and videos. Users can purchase virtual gifts or shop in the Facebook marketplace. They can also post events.
How Teens Use Facebook
Teens use Facebook to communicate with friends. They send messages and read blog entries to keep up with their friends' lives.
They also use Facebook to meet new people. For example, if a teen goes to a party and is too shy to approach someone, they can send a message to the person on Facebook. Unfortunately, this takes the personal element out of the exchange.
Another way teens use Facebook is to meet people in other places. They can search for people in a common interest group or by the person's location.
Safety Concerns with Adolescent Dating and Facebook
Adolescent dating and Facebook will continue to be inextricably linked. As the trend in social networking grows, teen dating online will become more and more common. However, by replacing personal contact with online dating, teens miss opportunities to build personal relationships.
As teens become romantically involved online, they are potentially putting themselves and their families in danger. As with any online exchange, there is no guarantee that the person on the other end is being honest. Predators can approach unsuspecting teens, especially teen girls, with little effort.
Even if you are using caution, Facebook relationships can be dangerous. Not only is your teen at risk from sexual predators, she could meet someone who is abusive, wants to take advantage of her or someone who simply isn't right for her.
Dating can be difficult enough for teens. Dating online doesn't offer the benefit of facial expression or body language to gauge a person's interest or honesty. Teens should experience the fun and learning opportunities of real world dating before they try it online.
Facebook Privacy Controls
Facebook does offer privacy controls. Users can prevent certain people from looking at their profile and limit access to personal information. Facebook privacy controls allow users to restrict everyone except those that have been pre-approved.
Tips for Parents
Talk to your teen about the dangers of dating someone they only know online.
Set rules for dating and discuss them with your teen.
Check your teen's profile often. Remove inappropriate pictures and posts.
Use a filtering program to monitor your teen's internet activity.
Do not let your teen have the computer in her room. Keep it in a place where you can periodically monitor his activities.
Enforce the rules. If you think your teen is doing something inappropriate online, take immediate action to stop it.
If your teen wants to meet someone he met online in the real world, go with him. If you don't, he will do it on his own. Going with your dating teen is the only way you will know she is safe.
Other Resources for Teen Dating Online