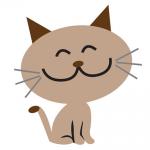 Avatars give people an online "persona" of sorts on message boards, in chat rooms, on blogs and Facebook pages, or anywhere else online. Consider an avatar your personal stamp on the cyber community at large. Grab some free avatars below, or from any of the following sites to let people know who you are.
Download Free Avatars
If you're into fun, cartoon-style avatars, download these free images to use. Pick one, or download them all and rotate them as you please. Right click on the avatar you want, including the one above, and choose "Save image as" to save it to your hard drive.
If you're interested in avatars that represent "you" a little better, you may also want to download some free female avatars as well, once you're done.
Avatars for Animal Lovers
If animals like cats, dogs or horses are your thing, personalize your avatar with an image from one of these galleries.
Dog and Cat Avatars
From cute and cuddly kittens to funny pictures of cartoon cats, these collections have it all.
Miscellaneous Animal Avatars
These collections feature everything and anything connected with animals.
Avatar Galleries with Celebrities, Movies and Television
Personify yourself as a famous, rich and gorgeous movie star. These avatars are for serious fans only.
Movie Avatars
Television Avatars
Now you can let everyone know what you're watching by stamping your online persona with a scene from your favorite television show.
Celebrities
Choose an iconic figure that you feel represents you best.
Cartoons and Comic Avatars
Whether you like classic comic book fare, or are into anime, there's something for every comic book aficionado.
Environment Avatars
Whether you want to spread the message about protecting our environment or you simply like to marvel at the natural world, these avatars are for you.
Fantasy and Science Fiction Avatars
These avatar collections feature fantasy worlds from another realm.
Holiday Avatar Galleries
Get into the season with these holiday avatars.
Miscellaneous Photography Avatar Galleries
These galleries show off what you can do with a digital camera and a good editing program.
Avatar Galleries for Sports Lovers
Use a sports-theme avatar to show off your team spirit or just your love of the game.
Galleries for Customizing Your Avatar
Customizing an avatar is a fun way to show your personality. The following sites let you create a character using pre-made imagery and art.
Otaku Avatar Maker
Otaku Avatar Maker allows you to customize your own character to use as an avatar or on a blog. Note that you are asked to give credit for your creation.
Meez
Meez is a free site that allows you to create an avatar, customize it and animate it as well. The style here will definitely appeal to tweens and teens.
Zwinky
You have to sign up to use Zwinky in order to access the site. Sign up is free, and you can create and collect Zwinky dolls. The dolls are slightly addictive since you can customize everything from their accessories to their make-up. They are part of an online community, but you can still save them to use as avatars.
Voki
Voki allows you to create a custom avatar and add your voice to it as well. You can then use the avatar in forums, classrooms, and other learning settings.
Find Yourself
People online will learn to identify you by the avatar you choose to use. With the number of free avatars out there, you should have no trouble finding just the right one to represent yourself.