Ideas for Fun on Facebook
Many people who first start using Facebook often find themselves seeking out ideas for fun on Facebook. While the main page of Facebook has a very standard format with predictable sections for your "wall" and profile, there are also thousands of other ways to have a great deal of fun on Facebook.
One interesting thing to do on Facebook is searching for people you know. This search utility includes the ability to find people by their email address, people you IM with, or even people in the same networks as you (such as school or company). Best of all, Facebook uses users' profile information to suggest "people you may know."
Add Applications to Facebook
One of the first places to start when you're looking for fun things to do on Facebook is the application list. You can get there by clicking "applications" at the lower left part of the screen, and then clicking the "Find More" link. On this page, you can search through thousands of very cool applications covering categories like games, sports, music, file sharing and much more. These applications are a very big reason why Facebook is so fun and addictive for many people.
Play Tournaments With Friends
Game applications are one of the most popular applications for ideas for fun on Facebook. One type of game, such as "Bejeweled Blitz," shown here, is the "tournament" style where you play a solo game and try to get higher points than your Facebook friends. These type of games are very addictive, so be careful!
Play Cooperative Strategy Games
Another, very popular, type of game on Facebook is the cooperative real-time game. For example, in "Mafia Wars," you build up your own Mafia, based on your Facebook friends who also play, and together you do "jobs," attack other Mafias, and help each other out by sending energy or cooperating on attacks. These kind of strategy games involve competing with other Facebook players within small virtual worlds.
Join a Facebook Cause
Another very rewarding activity on Facebook is joining a cause. A cause is another type of application you can add, where you can join an important cause that you believe in. The Facebook "Causes" home page lists thousands of important organizations covering issues you believe in. Many of these causes even actively raise funds or collaborate on activities that members of the Facebook cause strongly believe in.
Browse Through Events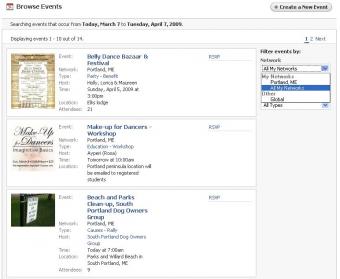 By clicking on "Applications," and the Events link, you can browse through events in your local area. The listed events are based on your profile, or you can browse the entire database of events. The events section lets you integrate fun in real life with fun on Facebook.
Send Gifts to Your Friends
Clicking on the "gifts" link under Applications takes you to the section of Facebook where you can send gifts to your friends. Gifts are icons that users can purchase (with real money) to send to their friends on Facebook. You can add messages to those gifts as well. Often, there are also free gifts available in this section.
Join Facebook Groups
Clicking on "Groups" under application takes you to a page where there are thousands of Facebook communities covering all sorts of topics and interests. By joining these groups, you'll find fun discussion forums filled with a lot of people taking part in interesting conversations.
Watch Your Friends' Videos
Clicking on the "videos" link under Applications, you'll find a section of Facebook that's a lot like YouTube. The difference is that this area allows you to view all of the videos from the profiles of your Facebook friends. This area is a lot of fun to browse, especially if you have Facebook friends who like to load a lot of videos to their profiles.
Build Your Own Application
If you are a "techie" type and like to create web pages or forum communities, Facebook offers an entire developers section where you can use their wizard to create your own Facebook application. Once you've designed your app, you can then invite all of your friends to add it to their profile.
If you want to find some of the best applications on Facebook, read through this LoveToKnow list of the best Facebook applications.