Social Networking in the Corporate World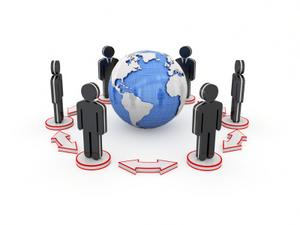 Whether you need a new job, you're trying to get the word out about your product, or you'd just like to team up with other businesses, social networking in the corporate world is quite often a must.
About Social Networking in the Corporate World
Social networking can seem like a daunting task because there are so many things to think about. You want to consider your audience, accumulate fans or readers, spread the word about products or services, or just meet and form relationships with friends or colleagues of friends and colleagues. Successful social networking at any level takes work, but there are multiple things to keep in mind when doing so in the corporate world.
Make timely posts, tweets, etc, in response to news and world events
Don't alienate current followers or fans but do entice them to bring in new customers and clients for you by saying positive things about your business
Offer intriguing information or shopping incentives
Set aside the time to keep up with the questions that need to be answered, tweets that should be retweeted, blog posts that need to be written, forum posts that need to be made among fellow experts, and more
Using social media can secure spots at conferences, introduce you to people who can propel your company forward, and reel in future loyal customers and clients. Social networking, if you have the resources to put in the time to build the relationships, can help you and your business succeed in the corporate world.
Social Media Options for Businesses
You can use social networking in the corporate world to not only link with other people in your field but to build relationships with your customers.
Facebook
When your friend endorses a product or recommends someone for a job, don't you sit up and take notice? Facebook can do the same thing for your business. If you start up a fan page for your company, people can "Like" it, which is like becoming a fan. Once they do so, a notification will show up in all of those people's newsfeeds, alerting their friends to the fact that they approve of your company. With that notification will come a link so that their friends can visit and click Like, further spreading the word of your business. This will also give you the opportunity to make announcements or answer questions one-on-one.
Twitter
Once you have a Twitter account for your company, it's easy to see what people are saying to or about you. This allows you to easily tap into what customers want and expect from your products or services and what they'd like to see in the future. When a customer or client says something positive about your company, retweet it and spread their testimonial to others who may have been on the fence about purchasing a product or service, or others who like your company and were looking to try something new that your company offers. If you have a blog, you can tweet updates. If you want to offer special discount codes to your followers, tweet those, too. Be sure to follow people who may be interested in your company; they may follow you back and retweet your coupon codes, blog links, and more.
Blogging
If you're an expert in your field and you'd like to educate others, use blogging to reach out to your readership, fans, and curious strangers who may or may not know about your product or services yet. Your word count won't be limited and you're free to add pictures to demonstrate your points. There are a number of blogging platforms to use, like Blogger and WordPress. When you comment on others' blogs, your username will be a link to your own blog. Offering sound advice or feedback on fellow bloggers' sites can get traffic to your own blog and help you build your reputation in the blogging network.
LinkedIn
LinkedIn is a great tool when you're looking for new talent for your company, other businesses that would complement yours, or even if you're looking for a new job. Keep in touch with old colleagues from other offices when they move away, and keep your job options open in case you ever decide to make a change. Meet people who share your industry interests in forums. Be introduced to new people in your field through mutual friends or even be recommended for projects or jobs. If you're looking for new work or new people to bring into your projects, this is the social networking tool for you.
YouTube
YouTube is a great way for current and prospective customers and clients to put a face to the name. You also get the opportunity to answer questions that people may have. If you need to get the word out about a new product, you can even send out samples to people who make YouTube videos for thousands of subscribers. If they love it, word of mouth could have their viewers flocking to your site.
---
Social networking in the corporate world can take your career or your business to the next step. Relationships with customers, clients, future employers, and colleagues can easily be formed online. There are numerous social networking tools out there to help you achieve them. Choose the one that works best for your business and your time constraints.