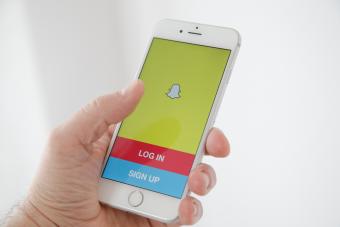 For any number of possible reasons, you may have decided you don't want to use Snapchat anymore. Whatever the case may be, you may have come to the point where you want to delete your account altogether. The process to do so is actually simple and takes only a few moments.
Steps to Deactivate Snapchat
Before you are able to delete your Snapchat account entirely, you must first deactivate it. To do this:
Open a web browser on your device of choice. This can be on your computer, or it can be on a mobile device like your iPhone or iPad.
Navigate to the Delete Account page on the Snapchat website.
Type your Snapchat username and password in the corresponding fields.
Click on the reCAPTCHA box to confirm you are not a robot.
Click the Log In button.
On the page that follows, it will confirm you are deactivating your account.
Re-enter your Snapchat username and password again.
Click on the Continue button.
When you've completed these steps, you should receive an email from Snapchat confirming that you have deactivated your account.
Deactivating Snapchat From the App
While it may feel like it could be more convenient to delete your Snapchat account from within the Snapchat mobile app itself, this is currently not an available option. You must go through the process in a web browser, but as mentioned, you can use the Safari browser on the same iPhone or iPad where you have Snapchat installed.
Deleting Your Account Permanently
When you follow the steps outlined above, your Snapchat account will be deactivated. What this means is you won't be able to post to your Snapchat account, and your friends on the platform won't be able to send you messages. During this time, your account isn't actually deleted yet.
If you want to delete your account permanently, you will have to wait for 30 days. After that period has passed, your account will be deleted for good.
Reactivating Your Account
If you change your mind and want to reactivate your account, you must do so within that 30 day window.
Open the Snapchat app on your mobile device.
Tap on the Log In button.
Enter your username and password.
Tap "Yes" to confirm that you wish to reactivate your account.
Wait for a few moments while your account is reactivated.
You should also receive an email from Snapchat when your account has been successfully restored.
Uninstall the Mobile App, Too
When you have successfully deactivated and subsequently deleted your Snapchat account, there's no reason for you to keep the Snapchat app on your mobile device. Remember to uninstall the app, too.
Apple iPhone and iPad
There are several ways to delete apps from iOS devices. This is one of the easiest.
Navigate through your list of apps until you find Snapchat (but don't open it).
Tap and hold on the app icon until all the icons in the app drawer start to wiggle.
Tap on the little "X" button on the top-left corner of the Snapchat app.
Confirm your choice by tapping on "Delete" in the resulting dialog box.
Google Android Devices
Just like with Apple iOS, Google Android offers a few different ways to delete apps. This is also one of the simpler methods available on most Android devices.
Open the app drawer on your device.
Find the Snapchat app in your list of apps (but don't open it).
Tap and hold the app icon.
Continue holding as you drag the Snapchat icon to the top of the screen to uninstall.
Confirm that you wish to uninstall this app.
No Turning Back
No matter the reason why you may want to delete your Snapchat account, you should be 100 percent sure you want to do it. You will lose all your contacts and trophies, and there is no way to restore your account after it has been fully deleted. Take that 30-day deactivation period to reflect and take advantage of the opportunity to reactivate your account if you change your mind.