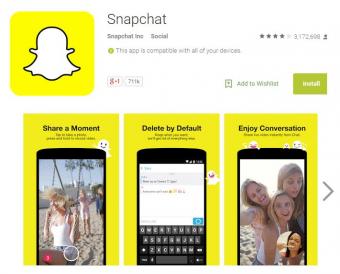 While Snapchat is often included in the same social media conversations as those which involve Twitter, Facebook and Instagram, it is better described as a photo and video messaging application for mobile devices. It just happens to have a significant social aspect to it, as well as a unique self-destruct feature that sets it apart from other mobile messaging apps.
What Is Snapchat?
Originally launched exclusively for iOS devices through the Apple App Store in September 2011, Snapchat is a messaging application where users can take, customize and send images and short videos to people on their contact list. These images and videos are known as "Snaps," and users can define how long the content can be viewed by the recipient before it is deleted from Snapchat's servers and hidden from the recipient's device.
Snapchat is particularly popular among young people and has become the third most popular social app for this demographic behind Facebook and Instagram. According to a comScore report, approximately one in three millennials uses Snapchat. This means the video messaging service and social app is more popular for this group than Twitter, Vine, and Tumblr. The adoption rate is particularly pronounced among users aged 18 to 24 years at about 50 percent.
Many businesses and corporations have begun to capitalize on this growth and penetration by increasing brand marketing through Snapchat. It has been said that media companies and advertisers are obsessed with Snapchat because it provides them with access to the lucrative 18-34 demographic.
Key Features
Snapchat boasts an increasingly robust set of features.
Users can maintain a contact list, similar to friends and followers on other social networks.
Users can share photos or videos privately or publicly.
Sent content can be configured to auto-delete after anywhere from one to ten seconds.
Users can send private messages to friends.
"My Story" lets users create personal montages that are broadcast to friends and available for viewing for 24 hours.
"Here" allows real-time video chat between users who are both currently online.
"Snapcash" allows users to send money to friends through the app, powered by Square payments and funded by the user's debit card.
"Discover" enables users to view clips from multiple media properties at the same time.
How to Use Snapchat
As more features are added to Snapchat, the user interface becomes more complicated. However, the process for using the most basic, core function of Snapchat, which is sending a self-destructing photo or video to a friend, has remained largely unchanged.
Open the Snapchat app on your phone.
Create an account if you haven't already done so.
The main screen of the app is the viewfinder on your camera.

Snapchat captions and text

Toggle between the front and rear camera by tapping the camera button in the top-right corner.
Enable and disable the camera's flash by tapping the flash button in the top-left corner.

Tap the large camera shutter button near the bottom to take a photo or hold the button down to record a video. This is similar to how Instagram works.
Optionally, add captions, handwritten text, hand-drawn pictures, filters and effects to the photo or video. You can also adjust the Snap length and other options.
Define how long you would like the message to appear, from one to ten seconds.
Tap the arrow-shaped "send" symbol on the bottom right of the preview screen.
Choose your recipients on the "Send to" screen.
Tap the arrow button to send.
Additional functions can also be accessed via the main screen of the Snapchat mobile app.
Pressing the Snapchat logo button at the top reveals notifications about who has added you to their contact list, which enables you to find friends.
The square Notification button in the bottom-left shows how many unread Snaps you have.
To create a Story, tap the Story button on the preview screen instead of choosing to send to individual recipients.
Snapcash is accessed through the chat feature.
Discover is found by swiping from the left on the main screen and tapping the Discover icon in the top right of the resulting Stories screen.
Legal and Privacy Concerns
One of the most pressing concerns about Snapchat has to do with safety and privacy. Since Snapchat is designed to delete photos and videos from its servers and remove access from the recipient's device after a prescribed period, many users assume that the content has been deleted forever. However, the recipient can take a screen shot or otherwise record the content before it is deleted and create a more permanent copy.
This concern led to changes in the app listing in both the iTunes App Store and the Google Play Store to reflect this possibility. It is also cited in the official Snapchat page on safety.
Parental Concerns
Many parents are notably afraid for their children's safety and privacy since Snapchat has become a popular channel for sexting among teenagers. The sexually suggestive photos and videos can be captured by the recipient and potentially by other Snapchat users and be used for blackmail or circulated on the Internet through other channels.
Security Concerns
The problem is further exacerbated by the fact that Snapchat has been hacked in the past, and it only received a one-star rating from the Electronic Frontier Foundation (EFF) regarding its customer privacy policy.
The EFF also only gave Snapchat a score of 2 out of 7 on its secure messaging scorecard because:
The messaging app does not provide end-to-end encryption.
Contact identities cannot be verified.
Past communications are not secured.
The security design has not been properly documented.
The Permanence of Snaps Online
Snapchat can be a fun social networking and video messaging application. The user base continues to grow and many brands are capitalizing on the opportunity to market to a very lucrative demographic. While the initial appeal of Snapchat is the temporary nature of photo and video "Snaps," users must also recognize that anything that has been posted on the Internet at any time can be saved, archived and shared. In other words, a fleeting Snap can exist forever.